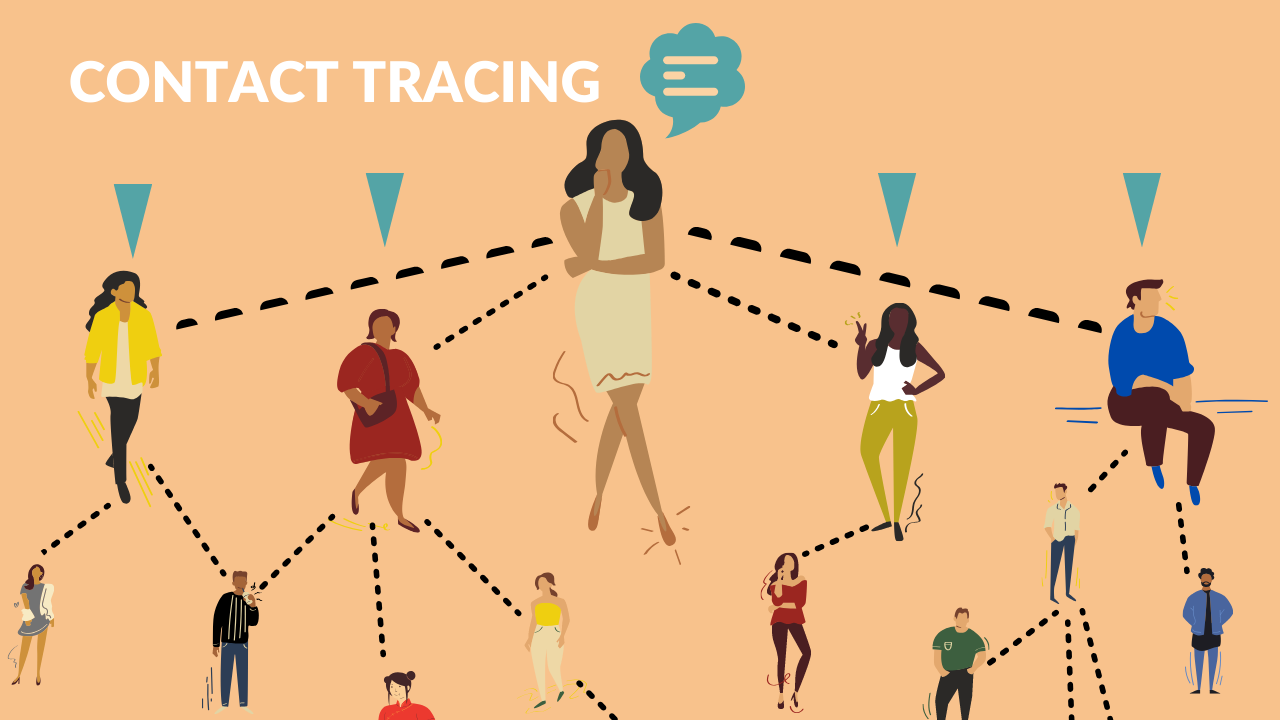 Image Credit: University of South Florida
Exposure notification and Contact Tracing: Essential tools
As the Novel Coronavirus or COVID-19 pandemic has gripped the world, Governments, Organizations and People all over the World are trying desperately to break the vice like grip of this deadly pandemic. With more than 830,000 people dead and 25 million directly infected, and the disease showing little signs of slowing down, the nature of the crisis is unprecedented and unmitigated.
The software development communities across the World have contributed since the start of the pandemic in 2019 by developing apps, data collection programs and frameworks to assist the medical communities and local, state and national or federal governments in their attempt to fight against this pandemic. The indefatigable spirit of doctors and nurses across the world required a solid backing and the tech community came forward unselfishly.
According to Wikipedia, the Exposure Notifications System, originally known as the Privacy-Preserving Contact Tracing Project, is a framework and specification developed by Apple Inc. and Google to facilitate digital contact tracing during the COVID-19 pandemic. Contact tracing is a technique used by public health authorities to contact and give guidance to anyone who may have been exposed to a person who has contracted COVID-19. The project's aim was to produce a framework to do a digital trace of COVID-19 cases so if one happens to be near someone or in contact with someone who is later diagnosed with COVID-19, one can get a notification and take the appropriate steps to self isolate and get medical help if necessary. Think of it as an Early Warning System for those who came in contact with known or unknown COVID-19 positive people. The reason behind this close collaboration is evident – just like the Novel Corona-virus doesn't differentiate between people, any efforts to digitally trace the spread of infection must transcend the very human boundaries of technology, software and hardware.
The announcement of this unprecedented collaboration project, a first of its kind among two arch rivals, immediately stoked fears of unreserved data collection and many people started voicing their concerns and feedback started flowing in. The people at large had genuine cause to worry. Tech companies after all have a less than acceptable track record of masking data collection activities while aggressively repudiating any efforts to control their massive arsenal of data-collecting apps.
Exposure Notification makes it possible to combat the spread of the coronavirus — the pathogen that causes COVID-19 — by alerting participants about possible exposure to someone they have recently been in contact with, who has subsequently been positively diagnosed as having the virus. There are three broad parts to this COVID-19 Exposure Notification system. The first part is defining the users. The second part is the feature of communication standard used to communicate between devices. And the third and final part is the contact tracing app developed by the local or state health agencies.
They process of Exposure Notification System woks through sharing anonymous Bluetooth beacons with nearby devices running the same software, tagging those that suggest extended and close contact associated with coronavirus spread, and saving the last 14 days of these records.
The first contact tracing app, Virginia's COVIDWISE, debuted Aug. 5. North Dakota and Wyoming shipped their Care19 Alert Aug. 13, Alabama launched its GuideSafe app Aug. 17, and Nevada introduced COVID Trace on Monday. The University of Arizona is testing Covid Watch Arizona, with a statewide release expected soon.
So now lets look at the first part. According to Apple, there are two primary user roles identified within the Exposure Notification framework.
So who are the Users?
Affected user -: When a user has a confirmed or probable diagnosis of COVID-19 (as defined by the Health Authority), the framework identifies them as affected and shares their diagnosis keys to alert other users to potential exposure.
Potentially exposed user -: To assign a user the potentially exposed role, use the framework to determine whether a set of temporary exposure keys indicate proximity to an affected user. If so, the app can retrieve additional information such as date and duration from the framework.
How does the Exposure Notifications System work?
The second part of the project concerns with the actual working of the feature and communication.  The Exposure Notification Service is the vehicle for implementing exposure notification and uses the Bluetooth Low Energy wireless technology for proximity detection of nearby smartphones, and for the data exchange mechanism.
The Exposure Notification system is made up of few components, namely Bluetooth keys, an API to communicate, and an app typically distributed by the local public health authorities.
First up, an API or Application Programming Interface is a software intermediary or bridge that allows two applications to talk to each other. Each time some uses an app like Facebook, or sends an instant message, or check the weather on phone, the application is using an API to fetch and display the data.
Apple and Google developed the underlying APIs and Bluetooth functionality, but they are not developing the apps that use those APIs. Instead, the technology is being incorporated into apps designed by public health authorities worldwide, which can use the tracking information to send notifications on exposure and follow up with recommended next steps.
Contact tracing app download by users – Users download the contact tracing app provided by local public health authorities that are compatible with ENS (Exposure Notification System)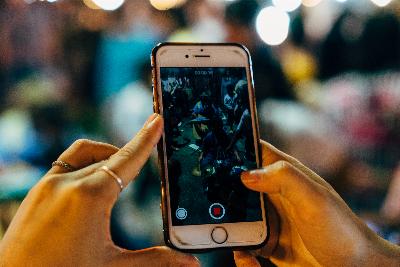 User opts in to the ENS (Exposure Notification System)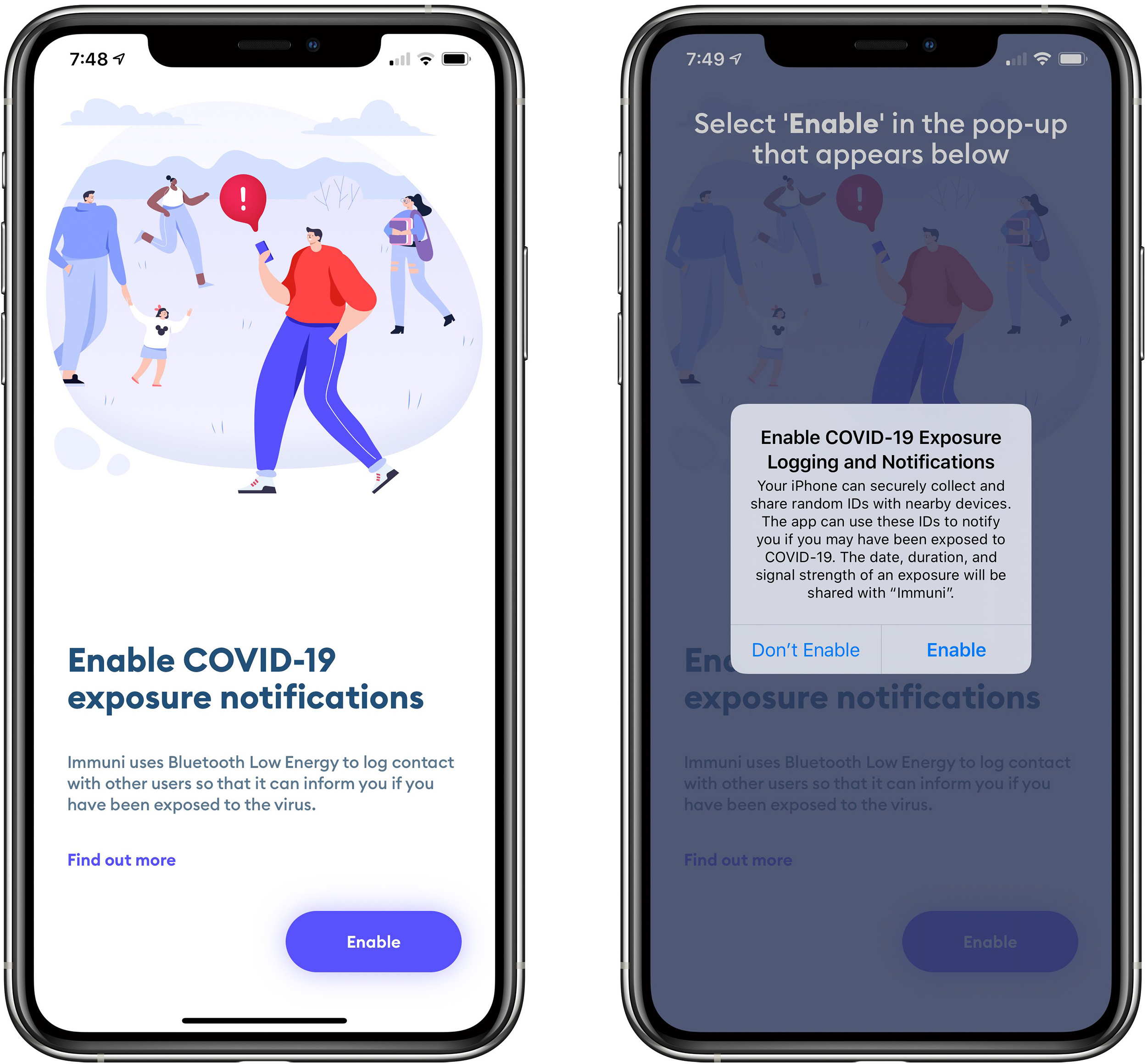 Image Credit: Macrumors
ENS (Exposure notification system) generates a random ID for user's device. To help ensure these random IDs can't be used to identify the user or user's location, they change every 10-20 minutes.
Image Credit: Nevada Health Response
The user's phone and the phones around user work in the background to exchange these privacy-preserving random IDs via Bluetooth. The users do not need to have any app open or opt-in or opt-out for this process to take place.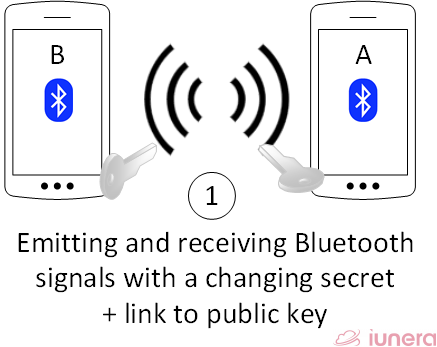 Image Credit: iunera
User's phone periodically checks all the random IDs associated with positive COVID-19 cases against its own list.

If there's a match, the app will notify the user with further instructions from their public health authority on how to keep user and the people around them safe.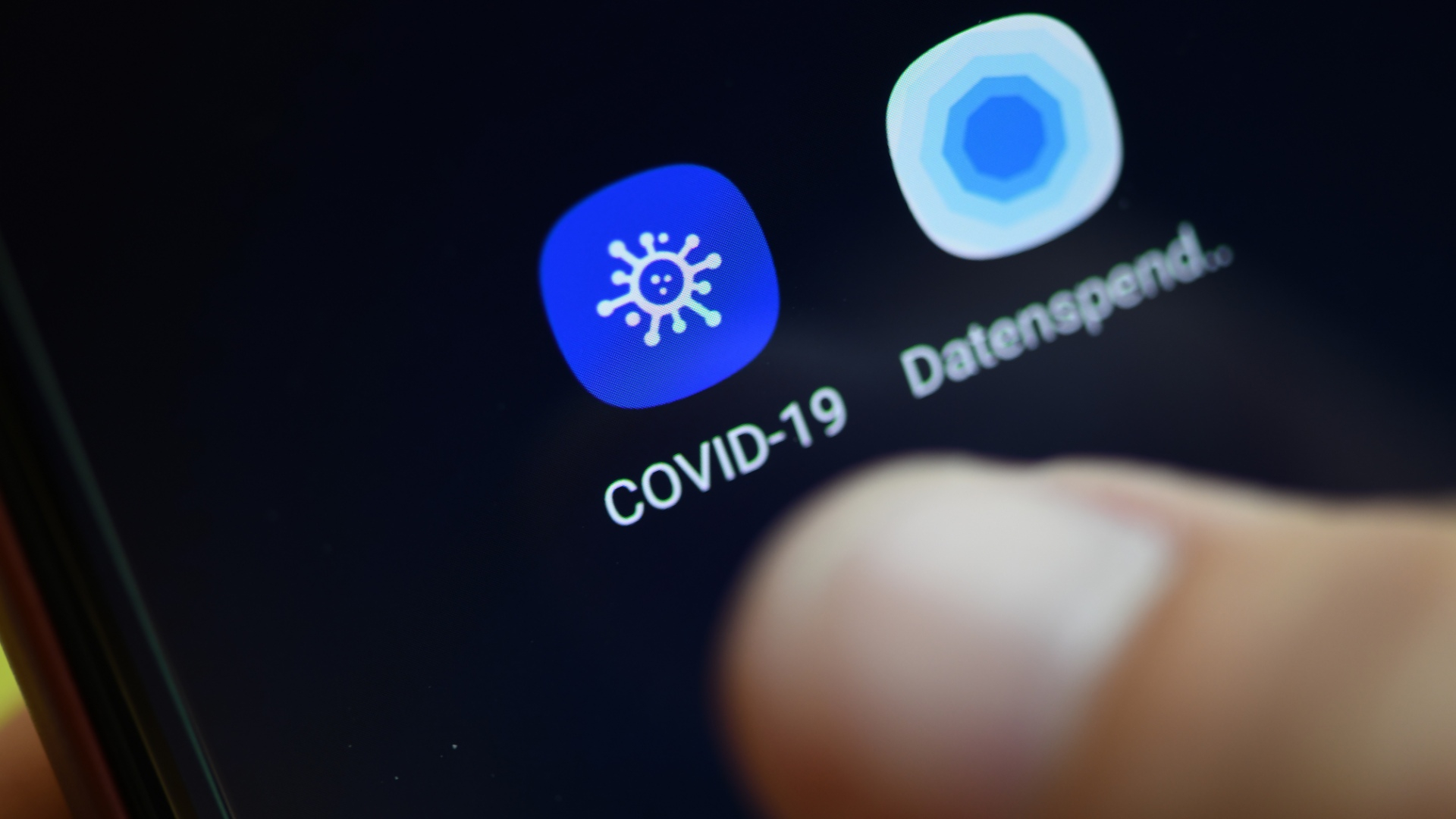 Image Credit: CGTN
Finally, what about Privacy
The Exposure Notifications System was designed with users' privacy and security at the center and essentially everything else floating around the need to keep contact's identity secure. An user's identity is not shared with other users, Google, or Apple. Even a cursory read of the document produced by Apple and Google detailing the specifications and working details of the program reveal that the concerns around privacy may afford to be relaxed at least in the case of this feature. Here's a look at the top privacy concerns.
The APIs have been created with privacy and security in mind, and app usage is opt in rather than mandatory.
User decides whether they want to use Exposure Notifications—it's off unless user turns it on.
ENS doesn't use location data from your device.
User's identity is not shared with Google, Apple or other users.
Only public health authorities can use this system.
Phase 1 of Exposure Notification System
The first phase, released by Apple through iOS version 13.5 on 20 May, 2020 required that users first download an app from their public health authority to opt-in to Exposure Notifications.
iOS 13.7 lets you opt-in to the COVID-19 Exposure Notifications system without the need to download an app. System availability depends on support from your local public health authority. For more information see covid19.apple.com/contacttracing. This release also includes other bug fixes for your iPhone.
This method makes contact tracing significantly easier for public health authorities who won't have to waste critical time or spend valuable money on developing an app.
So What's coming
The Exposure Notification System or ENS allows public health authorities to develop apps that augment manual contact tracing efforts while preserving the privacy of their citizens. As of today, public health authorities have used ENS to launch in 16 countries and regions across Africa, Asia, Europe, North America and South America, with more apps currently under development.
Apple likely made the change to use Exposure Notification service without the need for a contact tracing app to quietly encourage more public health departments to use its service. Only a handful of states in the United States and a few countries worldwide are using Google and Apple's mobile technology. Most health departments still use an old fashioned contact tracing method that relies on in-person interviews and phone calls to locate those individuals who came in contact with an infected person.
Recently, Nevada Department of Health and Human Services started offering its own contact tracing app to use the ENS (Exposure Notification Service) to keep people safe.