Retail meets Digital: A perfect match
Originally published April 19, 2018
Introduction
Since the time products and services have been marketed or made available commercially to consumers to buy, retail marketplaces have been the mainstay of bringing consumers to the products they desire. Brick and mortar shops as these are popularly known, fulfill the journey and add value to the manufacturer, consumer and everyone else remotely associated with the product or service.
The concept of retail stores is as old as manufacturing itself. From ancient grain markets to modern stores, the art of stocking, storing, displaying and selling products has evolved both with the changing nature of products being sold as well as the evolving demands of consumers. The role played by retail stores has grown and grown to level where its become indispensable to any product, even those which do not depend on human interaction to sell.
Alongside the brick and mortar stores, there have been alternate methods that retail industry has flirted with like catalog marketing through phone and mail orders. However, up until the advent of online stores offering shopping over internet, these alternatives remained exactly that – alternatives to the main retail outlets.
Online shopping however has turned out to be a gamechanger in the way people act and shop for stuff online. The online retail sales market has grown exponentially since the growth of internet made online virtual shopping a reality less than 2 decades ago.
Retail and E-commerce: putting it in perspective
According to popular statistics portal, the Statista, in 2017, online sales of physical goods amounted to 468.1 billion US dollars and are projected to surpass 740 billion US dollars in 2021. Apparel and accessories retail e-commerce in the U.S. is projected to generate over 121 billion U.S. dollars in revenue by 2021.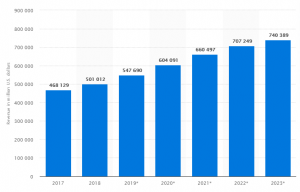 Source: The Statistica
In 2017, the reported total value of retail trade e-commerce sales in the United States amounted to 461 billion U.S. dollars – impressive, but a figure which paled in comparison to the total annual retail trade value of 5.04 trillion U.S. dollars. In 2016, e-commerce accounted for 8 percent of total retail sales in the United States, up from 7.2 percent during the previous year. Online shopping is utilized among all age groups. According to January 2019 data, digital purchases were most common among Millennial internet users with a penetration rate of 84.8 percent. Mobile commerce is also growing in popularity with consumers increasingly turning to their smartphone for mobile shopping activities and using mobile shopping apps. During a February 2019 survey, 57 percent of respondents stated that they had used a mobile retail app to look for more information about a product or a service. During 2017, e-commerce sales as percentage of total retail sales in USA stood at approx. 9%. That means that out of every 11 dollars spent by consumers in USA, one dollar was spent online purchasing stuff over internet, or outside retail stores, and this number is only growing. By comparison, countries like China, the United Kingdom, South Korea and Denmark lead USA significantly in this metric.
Source: the Statistica
According to latest quarterly sales number released by U.S. Department of Commerce, On a not adjusted basis, the estimate of U.S. retail e-commerce sales for the second quarter of 2019 totaled $139.7 billion, an increase of 8.3 percent (±0.9%) from the first quarter of 2019. The second quarter 2019 e-commerce estimate increased 13.6 percent (±1.6%) from the second quarter of 2018 while total retail sales increased 3.4 percent
(±0.5%) in the same period. E-commerce sales in the second quarter of 2019 accounted for 10.1 percent of total sales.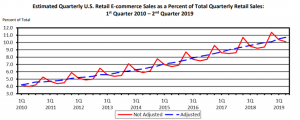 Image Source: U.S. Department of Commerce report U.S. retail e-commerce sales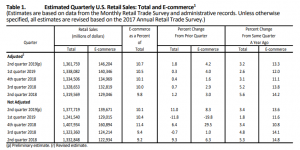 Image Source: U.S. Department of Commerce report U.S. retail e-commerce sales
According to this Internet Retailer report on U.S. e-commerce growth in 2017, it was a strong year for the broader retail market in the U.S., as total retail sales reached $5.076 trillion for the year, a 4.4% jump from $4.863 trillion in 2016. That's a significant improvement from 2016, when total retail sales grew 2.9% over the year prior.
Growth of E-Commerce
Back in the 1990s and early 2000s, during the early years when internet penetration was still low and people had less trust in virtual world, it was all about rushing from one store to another to get that 'best deal'. People are now much more informed to make decisions on what they want to purchase, from where. Consumers will shop around, online or in store, before purchasing. This pattern is certainly empowering the consumers with their decision making and purchasing. Now consumers are going through a phase where they are more aware of what things cost and what they actually need – they are prepared to spend the time to go to two supermarkets instead of one to save money.
With the advent of technology and Artificial intelligence, Retailers looked to technology to drive down costs, but that can only go so far. Price is important, but customer experience, and a sense that the brand is all about quality and service is vital in an ever more competitive sector like retail. Retailers today look at embedding technology in each aspect of customers' retail journey – from selection to purchase to driving customer loyalty. Technology is making it possible to manage the end-to-end customer experience in ways that were never possible before.
Just a few years ago there seemed to be a strict distinction between virtual and bricks and mortar retail operations. They were two different worlds. Some brands had their online divisions, while some tried to play on their brand while sticking to one format.  But that's been changing for a while now and the online and physical worlds are fast merging to become one, seamless brand experience. And so is changing the customer journeys.
People used online shopping primarily for ease and convenience of use, anywhere anytime access, no-rush experience and to compare and save across multiple items. Shoppers could check for a particular size or type or color of an item and then proceed to buy it at their convenience. On the other hand, shoppers preferred the visit physical stores to get the 'touch and feel' experience of shopping as well as dealing with humans. For years these two parallel channels existed side by side offering customers their own unique experience.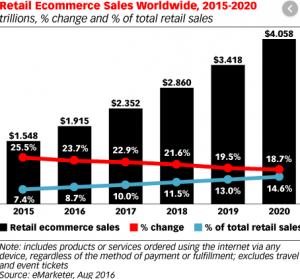 Image Source: eMarketer
Age of Connected Retail
People's urge to shop – the need to buy stuff – isn't changing. People will always be buying things and what marketplaces are seeing today is not so much a change in what people do, it's a change in how people do it.
The way people shop is changing. And its changing fast. Despite many analysts' predictions that bricks and mortar shops would become a thing of the past, and people will all be buying what they wanted online, real brick and mortar shops are still relevant. The internet pundits' confident predictions are being proved wrong all over the world. In fact, new digital technologies are making shops even more relevant (and attractive) to consumers. Retail is now all about providing consumers that connected experience – leading to satisfying and compelling experiences as well as ensuring the shelves are well-stocked.
In the age of Connected Retail, stores must feel and look (and perform) like websites, and websites must look like stores and attempt to provide the same level of personal service.

Image Source: SAP Insider https://sapinsider.wispubs.com/Assets/Articles/2016/June/IP-Total-Retail-Reshaping-Your-Operating-Model-to-Respond-to-the-Needs-of-Connected-Consumers
What's driving this retail revolution is the rapid evolution of The Internet of Things and the IoT technology that underpins it. Machines, devices and applications that communicate with each other constantly and accurately generate data about consumer behavior. This data is generated both at point-of-sale, be it retail or online, and throughout the customer journey, for example, in case of online – pages where customer spent most time, what are the most viewed items, what are the items which are often stored in customers' check out carts, and in case of retail stores, what items customers spend most time looking at and in what areas of the store.
The point of connected Retail is to direct consumers to the retail brand's own online capability and back into the physical store. That's a big part of the connected retail experience. People search and look up what they want online, compare prices and features, read reviews, get information, make an initial decision, then go to a store to get up-close-and-personal with what they desire. It works the other way around too: people go to a store, use their mobiles to check prices at competitor brands, either in competitor stores or other websites, and then engage with staff to make their buying decisions. Post making that initial buying decision, at each stage of buying process before s/he puts down the money, the customer are looking to validate their decision of choosing the particular product. And providing such validations is in the brand's best interest.
The data they generate allow supply-chains to run effectively and efficiently so shops can have the right stock and offers in place based on insights into their consumers' behaviors before, during and after their visits. Specialized software programs and algorithms perform several functions like tracking demand, inventory levels and activities of competitors, and respond automatically to market challenges in real time, which provides real actionable insights. This in turn, enables online outlets to deliver a seamless brand experience and ensure the goods are available in an efficient and customer-friendly way – that's what the connected retail approach is all about.

Image Source: Cisco
The following trends or strategies are most noted within the Retail industry:
1.      The age of internet technologies
Pop-up store owners tend to lack basic customer intelligence tools that are common in online retail.
Samsung's facial recognition technology helps retailers not only understand the demographics but also gauge customer experience. "What is the shoppers' sentiment as they are experiencing different parts of my retail experience? Are they frustrated with what they are seeing? Are they confused?" These are some of the questions being answered with the help of technology.
Samsung's IoT side of the technology spans several layers. First, there's customer experience and business intelligence. The Samsung IoT platform includes camera technologies, RFID tags, beacons, and sensors that can interact with customers' mobile devices in the pop-up store environment. The retailer can also leverage data from these devices to create custom analytics dashboards.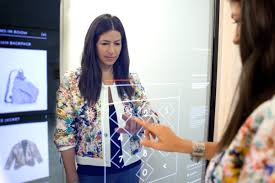 Image Source: Internet
2.     Role of Big Data and IoT
Connected devices, sensors, and mobile apps make the retail sector a relevant testbed for big data tools and applications.
Major activities of retailing are to decide what products to carry (assortment, product design, procurement), how to sell products to customers (marketing, including pricing), and how to complete these efficiently (supportive functions, such as logistic planning). Assortment, pricing, and store layout are challenging processes in retail operations that are expected to benefit from big data analysis. Assortment and pricing involve a large amount of granular decisions and can be affected by various factors, such as customer preferences, store location, and demand elasticity. Without effective quantitative analysis, making these decisions can be resource-consuming and ineffective. Store layout is also worth exploring as it can affect customers' purchasing decisions.
Data has always driven retail. Retailers need to know what consumers desire and when they desire it. They then need to ensure they have the right products on their shelves (or in their warehouses) to keep up with demand.
That takes insights into the market, people's behaviors, and what elements might encourage them to come to your store instead of another.
Data availability has turned routine, mundane aspects like store parking in to specialized initiatives which can provide valuable insights and planning tools to stores. Effortless parking – on arrival and departure – ensures that a good in-store experience isn't marred by problems and frustration in the car-park. Data on peak car parking demand, arrivals and departures can tell stores how to manage operations and can be used to improve everything from offers, to opening times, to basic traffic management.

Image Source: Internet
3.      Store Associates turned Digital promoters
Store employees at all major retailers now are connected to the store's back end systems, warehouses as well as dedicated product review and comparison apps which can inform store associates helping them answer shoppers' queries in a better manner.
Nordstrom, for example, has equipped associates with mobile devices that let an employee check inventory at all stores for an item or size or color not in stock at that location, and place an order on the spot. Whether the shopper is holding a garment in her hand or placing an order for delivery to her home, the employee can use the mobile device to accept payment without going to the checkout counter—and offer the consumer the option of receiving a digital receipt, just as she would in an Apple store.
4.      Visualization
Augmented reality based apps are giving shoppers, present and prospective alike, to view how the items would look in their premises or on themselves.
Ovestock.com Inc. was among the first, updating its iOS app with an AR furniture-shopping feature called View 'In My Room'. A shopper taps the View In My Room option in the Overstock app to see a three-dimensional product image, the app opens her smartphone camera and she can hold the camera up to scan the room and move the image of the product around to see how it would look in the space
Samsung offers digital mirror displays to enable customers to virtually try on clothing, while the company's augmented reality technology offers "immersive digital in-store experiences."
5.      Enable agile fulfillment
Speedy fulfillment of orders, bespoke or normal off-the-shelf items, is a big driver for customer satisfaction as well as customer loyalty. Retailers are turning to technology, from artificial intelligence to autonomous drone vehicles for last mile delivery, to improving efficiency, while making it as convenient as possible for consumers to receive orders and make returns. Retailers with many stores and distribution centres need to determine the most efficient placement of inventory to minimize costs while maximizing the speed of shipments to stores and consumers.

Image Source: Internet
6.      Personalization
A customer journey is not limited to the product ordered by customer. Adding more and more products to customer's cart and on repetitive basis is essential to building customer loyalty and customer satisfaction.
Personalized product suggestions based on tailor made recommendations for each customer – basis their previous shopping, related products, stated preferences, etc.
Lindt & Sprüngli had a different kind of personalization challenge: The maker of fine Swiss chocolates wanted to create customized sites and assortments for a variety of gifting holidays, such as Valentine's Day and Mother's Day. With an e-commerce site built on a foundation of IBM WebSphere Commerce, Lindt & Sprüngli deployed CrossView's Aurora plus Commerce on Cloud technology that allowed it to quickly spin up microsites for each holiday. Now the chocolatier can offer products and promotions targeted to each holiday, and enable consumers to build personalized gifts with just the products they select. And, with the e-commerce system hosted in the cloud, the website's capacity can easily be increased to handle traffic peaks.
Supermarket chain The Kroger Co. tracks what customers buy and reminds them of items they may need to restock by putting them at the top of search results on its e-commerce site. Those personalized search results led to a 33% increase in add-to-cart clicks on items in those top positions.
Image Source: Internet
Source: IBM paper on e-commerce technology trends
Source: Samsung IoT Platform
Conclusion
Many consumers don't want to talk to a salesperson. That's why they like shopping online. But sometimes, customer do want to talk to someone. That's the beauty of the customer's buying psyche, and the challenge lies in decoding it successfully.
Retailers across America are closing thousands of stores following years of declines in sales and customer traffic. K-Mart, Sears, JCPenney, Radioshack and other bi retailers have announced closure of thousands of stores in the last year alone. Toys "R" Us, Inc announced its next set of store closure in 2018 post filing for bankruptcy in 2017. Insiders and industry experts in all the above cases have pointed out – weak online presence – as among one of the chief causes of the respective chain's present state of affairs.
An Online strategy and a strong Digital presence is not only essential for growth, rather has become a survival strategy in today's world. Behind many of the changes and shifts in retailing industry today, lie major advances in technology and use of next-gen tools and systems. Big Data which provides mountains of data, Cloud computing which enables retailers to store and analyze massive amounts of data and the software applications based on artificial intelligence and machine learning come together to facilitate functions like target marketing, cost effective ways of fulfilling orders and work in every layer of a retailer's operations today – from anticipating customer demand to sales and revenue generation. These technologies and their applications are changing the face of retail today.