Big Tech companies and investment in Cable Network Infrastructure
Introduction
According to some the vast expanse of Internet infrastructure is really just a spaghetti-work of really long wires spread everywhere. While most of the humans now largely experience the internet through Wi-Fi and phone data, the connectivity itself is provided by systems carrying the signals across the world. The signals are transmitted under the ground, carried overhead or travel through deepest oceans. What we can physically see however is just a small part of this mind-numbingly massive infrastructure, for the largest part of internet cabling is virtually passing through the deepest waters.
Since the 1990s, the global submarine or undersea cable networks have become the major foundation of worldwide internet traffic and movement of information digitally. The first submarine communication cables laid in the 1850s carried telegraphy traffic, followed by telephone traffic, then data communications traffic. In 1854, installation began on the first transatlantic telegraph cable, which connected Newfoundland and Ireland. Four years later the first transmission was sent – it took nearly 16 hours for the first trans-Atlantic cable sent from Queen Victoria to commemorate the occasion to reach President James Buchanan. Fiber optic cables and communications satellites were both developed in the 1960s, and throughout the cold-war era the undersea cable networks were used by countries to aid and strengthen their communication systems. Internet signals can be carried over satellites in space orbiting around the Earth. There are thousands of satellites in orbit around the Earth today, and the number is increasing. Though fiber optic cables and communications satellites were both developed in the 1960s, and reformed over the years, satellites communications have never been able to get rid of its inherent two-fold problem: latency issues and bit loss in data transmissions. Fiber-optic networks work by sending light over thin strands of glass. Fiber-optic cables, which are about the diameter of a garden hose, enclose multiple pairs of these fibers. Meanwhile, the optical fiber cables can transmit information at 99.7 percent the speed of light. The problems with satellite connectivity, and the advantages of undersea fiberoptic networks have tilted the tide in favor of undersea cables decidedly.
In the decades since 1960s, new wireless and satellite technologies have been invented, yet cables remain the fastest, most efficient and least expensive way to send information across the globe.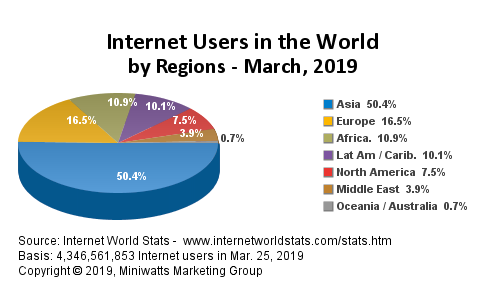 Image Source: Internet World Stats
Why is Big Tech interesting in owning the cables
In 2013, Internet traffic was 5 gigabytes per capita; this number is expected to reach 14 gigabytes per capita by 2018. Lets allow that to sink in for a moment.
In the modern internet era, where speed, transmission capabilities and robustness of the network held the key, telecom companies did most of the work by building the massive submarine information highways by laying most of the cable under the world's oceans. During the past decade, however, tech giants (Google, Facebook, Amazon, Microsoft, etc) have started to take more interest in this space by exercising their financial muscle. Experts say submarine cable projects cost up to $350 million, depending on the length of the cable and in case of long projects like the one Facebook just launched, the costs can escalate further quite quickly.
According to this NY times article, nearly 750,000 miles of undersea cable already connects the continents to support global insatiable demand for communication and entertainment. Companies have typically pooled their resources to collaborate on undersea cable projects, like a freeway for them all to share.  Alan Mauldin of the research firm Telegeography says only about 30 percent of the potential capacity of major undersea cable routes is currently in use—and more than 60 new cables are planned to enter service by 2021.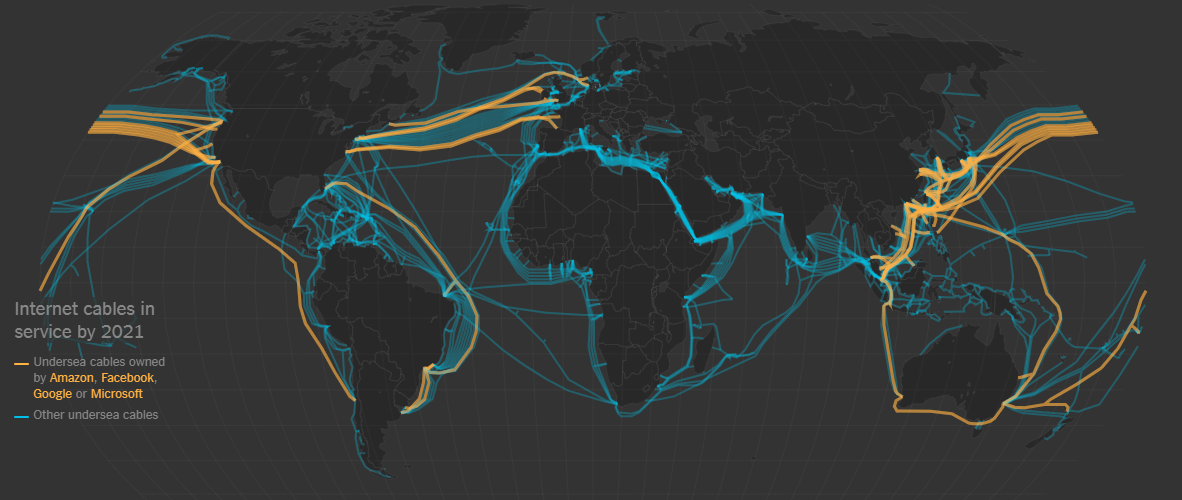 Image Source: NY Times
Traditionally, the relationship between tech companies and telecom provides has been fairly simple.  Like Google's employees using T-Mobile's wireless services, the telecom companies built a huge undersea network sinking in billions of dollars, for the bandwidth to be consumed by tech companies to transmit data across the globe. Experts say that as undersea cable technologies improve, it's not crazy for companies to build newer, faster routes between continents, even with so much fiber already laying idle in the ocean. This model is being disrupted as today, the current growth in new cables is driven less by telecom operators who typically lease the connectivity, and more by companies like Google, Facebook, and Microsoft who are moving from leasing to owning their own connectivity. Tech giants like Google, Facebook, Amazon and Microsoft have always craved ever more bandwidth for multitude of uses – data storage, streaming videos, photos, and other data scuttling between their global data centers.
Google is going its own way, in a first-of-its-kind project connecting the United States to Chile, home to the company's largest data center in Latin America. Alphabet is also reportedly in talks to build its own cable system down Africa's western coast. Just in 2019 alone, Google is planning to build three underwater cables to help expand its cloud business to new regions. In the past, Google has backed at least 14 cables globally. The company has 13 data centers open around the world, with eight more under construction — all needed to power the trillions of Google searches made each year and the more than 400 hours of video uploaded to YouTube each minute.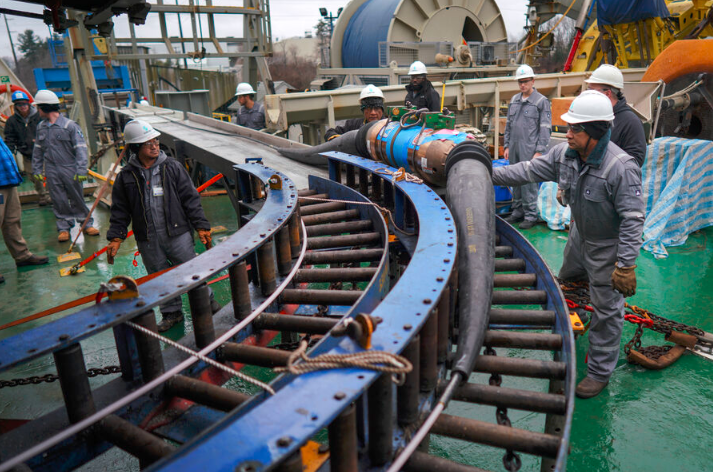 Image Source: Internet
Ben Treynor Sloss, vice president of Google's cloud platform, said in a blog post that "together, these investments further improve our network — the world's largest — which by some accounts delivers 25 percent of worldwide internet traffic,".
Related to the worldwide telecommunications boom and the easy access to 4G networks along with smartphones, more people outside Europe and North America are accessing internet through smartphones in specific and through other means in general. That has prompted companies to think about new growth routes, like between North and South America, or between Europe and Africa, says Mike Hollands, an executive at European data center company Interxion. The Marea cable ticks both of those boxes, giving Facebook and Microsoft faster routes to North Africa and the Middle East, while also creating an alternate path to Europe in case one or more of the traditional routes were disrupted by something like an earthquake.
Amazon, Facebook and Microsoft have invested in others, connecting data centers in North America, South America, Asia, Europe and Africa, according to TeleGeography, a research firm.
According to the WSJ, in a project dubbed Simba, Facebook is reportedly developing an underwater data cable to encircle the African continent. Along with its newest project, Facebook already has existing undersea cable projects linking North American, European, and East Asian markets.
Huawei is launching subsea cable links to Africa.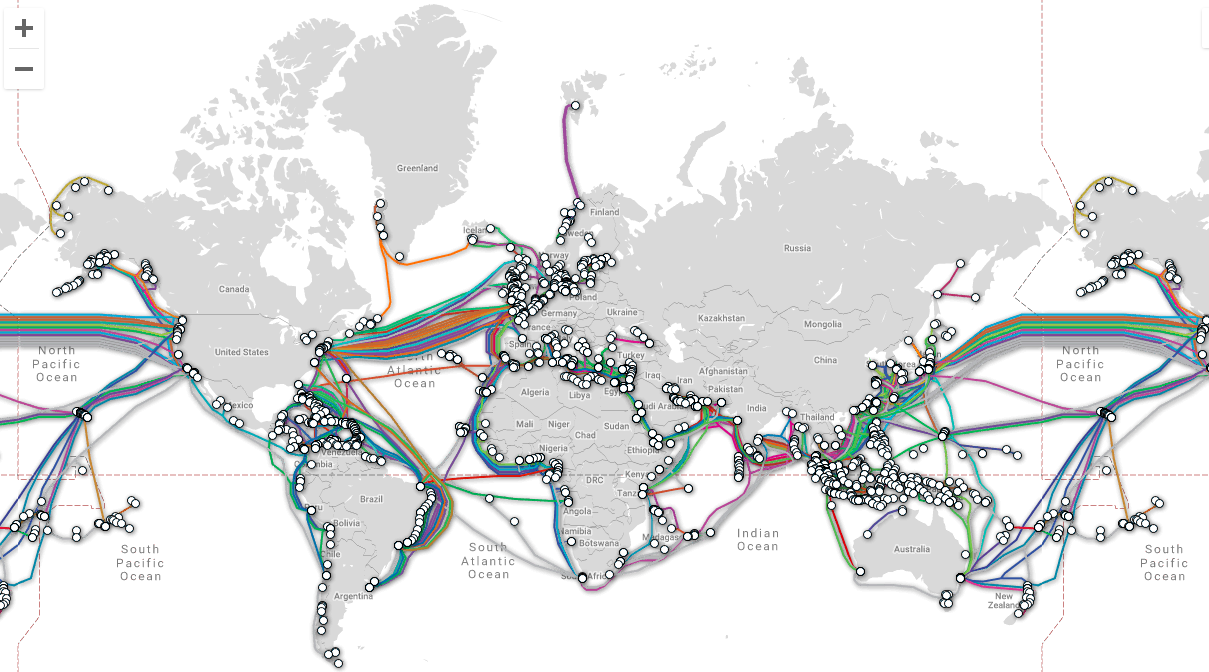 Image Source: Submarinecablemap
Benefits keep on stacking up
Experts have pointed out that simply owning its own cables has multiple benefits as having more cables means there are alternate routes for data if a cable breaks or malfunctions. This simple fact has led to a massive re-alignment of priorities among tech giants such as Google, Amazon, Facebook and Microsoft. The new desire to own undersea networks coupled with the massive wallet size and huge drive to take on risks, means that there are less impediments to stop these tech giants from seizing up as much bandwidth as they possible can.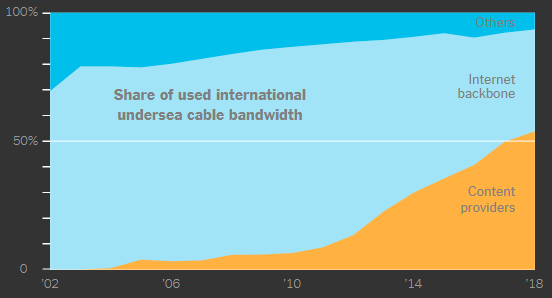 Image Source: telegeography
In addition to owning the number of undersea cables, the tech giants are investing in the underlying technology itself to improve the speed of data transmissions. Most standard long-distance undersea cables contain six or eight fiber-optic pairs. Google's new cable dubbed Dunant, is expected to be the first to include 12 pairs, thanks to new technology developed by Google and SubCom, which designs, manufactures, and deploys undersea cables. Google predicts that its cable will transmit around 250 terabits per second which is more than 50% faster than the Facebook and Microsoft's Marea cable, which transmits data at about 160 terabits per second between Virginia and Spain. Japanese tech giant NEC announced that it has built the technology that will enable long-distance undersea cables with 16 fiber-optic pairs, while Vijay Vusirikala, head of network architecture and optical engineering at Google, says the company is already contemplating 24-pair cables.
Not only technologically, even financially it may make more sense to own undersea cables. The companies can increase the amount of data that each fiber pair within a fiber-optic cable can carry while also packing more fiber pairs in to a given cable. As companies pump more and more data through these cables at ever increasing speeds, the value of each cable increases while the cost for each unit of data comes down.
Some challenges
It generally takes about a year of planning to chart a cable route that avoids underwater hazards, but the cables still have to withstand heavy currents, rock slides, earthquakes and interference from fishing trawlers. Each cable is expected to last up to 25 years.
In total, the volume of undersea cables is hundreds of thousands of miles long; while the cables are laid down at depths as deep as Everest Is tall. The job of laying undersea cables require its own specialized crews, machines and boats. While not the most difficult job, it's certainly more complex than a matter of dropping wires with anvils attached. The cables must be dropped precisely, generally across flat surfaces of the ocean floor, which can be a daunting task even for the most experienced crews. Care must be taken to avoid anything that can physically disrupt or heavens forbid, damage the cable. Coral reefs, sunken ships, fish beds, and other ecological habitats and general obstructions are just few of such blockers. The cables need to be laid anywhere from shallow sea bed to deepest parts of the ocean where weather conditions can become nasty quickly.
The diameter of a shallow water cable is about the same as a soda can, while deep water cables are much thinner—about the size of a Magic Marker. Just like ships' anchors and fishing trawls, earthquakes can cause significant damage to undersea fiber-optic cables. The damage could be a malfunction or break near or many miles below the surface of the water. When this happens, the telecom operator responsible for maintenance has to find the location of the accident and then work on repairing the impacted sections of the cable depending on the depth where the impacted portion is located. If the cable is in deep waters (6500 feet or greater), the ships lower specially designed grapnels that grab onto the cable and hoist it up for repairs, while If the cable is located in shallow waters, robots are deployed to grab the cable and haul it to the surface.
Conclusion
Demand for undersea cables will only grow as more businesses rely on cloud computing services. And technology expected around the corner, like more powerful artificial intelligence and driverless cars, will all require fast data speeds as well. Areas that didn't have internet are now getting access, with the United Nations reporting that for the first time more than half the global population is now online.